2019-07-15T14:45:27Z
Beta for IPOs, Now Available
Ryan Poirier, ASA, CFA, FRM | Director, Index and Product Research | ryan@saltfinancial.com
Uber and Lyft excited the public markets in the first half of the year with their highly anticipated IPOs. More companies still wait in the wings to have their shot at the public markets, whether it be in the second half of 2019 or early next year.
These corporations sell a piece of their company, raising funds from the public in exchange for the investor getting equity ownership. In other words, investors are buying a claim on the future cash flows and growth of the company. But how do investors assess the market risk (beta) of these newly minted "public start-ups".
A seasoned company, such as Apple or Google, will have plenty of trading data to calculate the usual beta measures (typically the trailing 252 days or 60 months) while a fresh IPO will have very little. But after a few months or even weeks, the new IPO begins to generate some daily data points that some vendors attempt to use to estimate beta. Since their respective IPOs through July 9, 2019, there are roughly 70 days of data for Lyft and about 40 for Uber to use for this purpose. Is this enough?
In general, a relatively sparse number of observations makes for a poor estimate no matter what you are measuring. While you can't speed up time or look into the future, it is possible to increase the number of observations over the same period, which can give you a much clearer picture. We get around the limitation on time by using intraday observations to enhance the estimate of beta. We call this truBeta™, our proprietary beta measure. With intraday returns (we use 30-minute intervals), the 70 data points for Lyft becomes 1820 observations (70 days x 26 30-minute intervals in the 6.5-hour trading day).
Exhibit 1 shows the beta from various publicly available sources where beta is available on the website. Three of the six do not register a beta at all.
Exhibit 1: Beta Calculation From Various Sources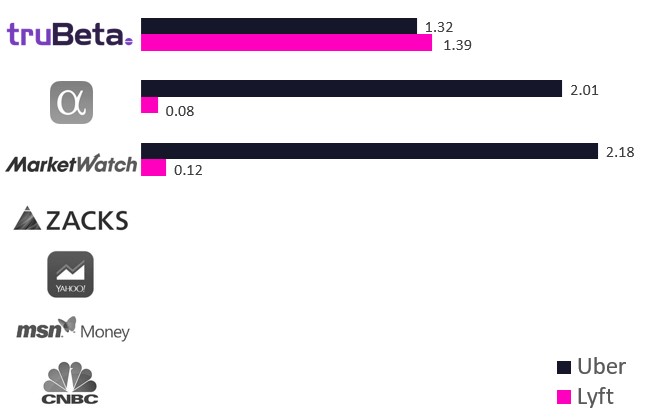 Source: Salt Financial. Data as of 7/9/2019.
MarketWatch and Seeking Alpha generate similar estimates from the limited amount of daily data generated since their IPOs. Uber registers as very high beta (about 2.0), which is likely expected, while Lyft has an usually low beta of about 0.1, which is highly unusual for a US stock. Of the 4,366 US stocks we cover, only 151 (3.5%) have a truBeta™ of 0.1 or lower. The S&P 500 has a beta of 1, implying Uber is twice as volatile, yet Lyft is effectively far less volatile and/or uncorrelated with the market. This is like Coke and Pepsi stock having no relationship to each other, which would be highly unlikely given their positions as direct competitors.
Beta has not been updated much since the introduction of the Capital Asset Pricing Model (CAPM) in 1964. [1] Risk today is highly unlikely to be like the risk of five years ago, which is what is implicitly assumed when beta is calculated from the past 60 months. Weighting the calculation more towards the recent past helps mitigate the effect of stale data. When combined with higher frequency data and a more sophisticated method, this can produce a more reasonable estimation of market risk.
For example, our truBeta™ scores for Uber and Lyft are 1.32 and 1.39, respectively, which likely makes sense to the average investor. Companies in the same sector, running similar business models, and fighting over the same customer segment are probably going to be of similar risk.
Companies will continue to IPO in the future, creating a challenge for public market investors to understand their market risk profiles out of the gate when they begin trading. But even for established companies, estimating risk using higher frequency data can yield significant benefits. truBeta™ has shown to increase accuracy compared to the trailing 252-day calculation by up to 40% [2], allowing asset owners, asset managers, consultants, etc. to better understand their market risk across a diverse portfolio.
From an investor's perspective, knowing the risk profile of a company—old or new—is not always easy to estimate. A wet finger in the air is not a prudent risk management strategy. Timely, actionable, and relevant information is key. truBeta™ appears to check all the boxes, especially in the battle of Silicon Valley ride sharing.
[1] Sharpe, W. F. (1964). Capital asset prices: A theory of market equilibrium under conditions of risk. The Journal of Finance 19(3), 425–442.

[2] Barchetto, T. (2018). Quarterly Beta Forecasting with Multiple Return Frequencies. Salt Financial.
The information provided herein is for information purposes only and is not intended to be and does not constitute financial, investment, tax or legal advice. All investments are subject to risks, including the risk of loss of principal. Past performance is not an indicator of future results.

The information and opinions contained in Salt's blog posts, market commentaries and other writings are of a general nature and are provided solely for the use of Salt. This content is not to be reproduced, copied or made available to others without the expressed written consent of Salt. These materials reflect the opinion of Salt on the date of production and are subject to change at any time without notice. Due to various factors, including changing market conditions or tax laws, the content may no longer be reflective of current opinions or positions.

The information contained herein is not intended as a recommendation to buy, hold or sell any security. The investment performance described herein is simulated and does not reflect actual performance data. Actual investment performance may vary. There is no guarantee that an investment will be profitable and all investments bear the risk of partial or complete loss of capital. Past performance is not an indicator of future results.

Any market observations and data provided are for informational purposes only. Where data is presented that is prepared by third parties, such information will be cited, and these sources have been deemed to be reliable. However, Salt does not warrant the accuracy of this information. Salt and any third parties listed, cited or otherwise identified herein are separate and unaffiliated and are not responsible for each other's policies, products or services.